The latest innovation from WTI is the DTC-720, a multi-function desktop controller designed for setup and programming of the Sidewinder Series P/T/Z cameras.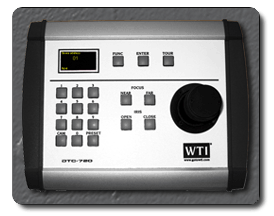 Features Include:
Three (3) axis proportional joystick for precise control of pan, tilt and zoom functions.

Bright OLED display for readability in any lighting conditions.

Provides simple setup of presets and tour functions.

Supports field firmware upgrades of Sidewinder and DTC-720.

Supports basic, extended and advanced Pelco D and P codes.

For more information, or to place your order today, call 805/339.9696 or email sales@gotowti.com