The WTI Ultra-Video IP Encoder is compatible with current security systems and supports both NTSC and PAL sources. These servers are capable of advanced event handling with video motion detection, I/O control and alarm notification. A P/T/Z camera can easily be connected to the unit's serial port and can be controlled by a hand-held remote control or from a remote location using the software included with the server.
The video server supports popular P/T/Z protocols. Security features include multiple user access levels with password protection, IP address filtering and data encryption. The video signal can be displayed with the standard web browser or with the video management software included with the unit. The video server is small enough to be mounted near a camera or centrally rack-mounted.
Using WTI's C-MAX Series Decoder you can integrate point-to-point connection into your system to display video from any camera on your analog monitors.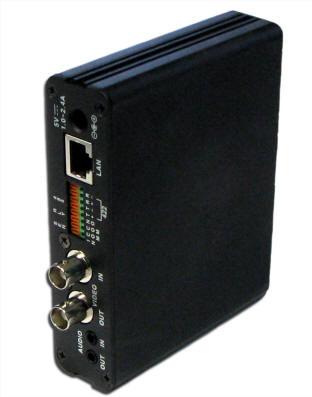 Features Include:
Multi-codec (MPEG 2/4, MJPEG).

Stable operation based on embedded Linux.

Watchdog.

Interface with hybrid DRV for total management.

Supports dynamic IP, PPPoE, DHCP.

Different resolution/speed settings for display and recording.

Display and record using USB 2.0 support.

P/T/Z control, fully integrated.

Built-in web server.

Multicast and Internet streaming.

Applied various networks.

Built-in relay server program.