The newly developed WTI HHC-7000 Hand-Held Controller is designed for field control of the Ambervision and C-MAX Ultra Series cameras. Communication with the camera is implemented over the video coaxial cable, requiring no additional control wiring. Front panel zoom control buttons allow quick, easy camera adjustment during installation. The RS-232 port on the HHC-7000 enables every camera function to be remotely adjusted for optimum performance! Low power operation and an auto-shutoff timer maximize battery life.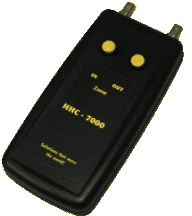 Features Include:
Compatible with WTI's Ambervision and C-MAX Ultra Series cameras.

No additional control wiring required to adjust all camera functions.

Adjust camera zoom setting using only front panel high durability pushbuttons.

Auto shutoff timer feature to preserve maximum battery life.

Rugged metal BNC connectors for extra reliability.

For more information, or to place your order today, call toll free 866/gotowti or email sales@gotowti.com